ReviewSolicitors releases updated Integration with Tikit - Partner for Windows (P4W)
ReviewSolicitors launches version four of their integration with Tikit (P4W), enabling law firms to seamlessly collect client reviews via Email, SMS and Whatsapp.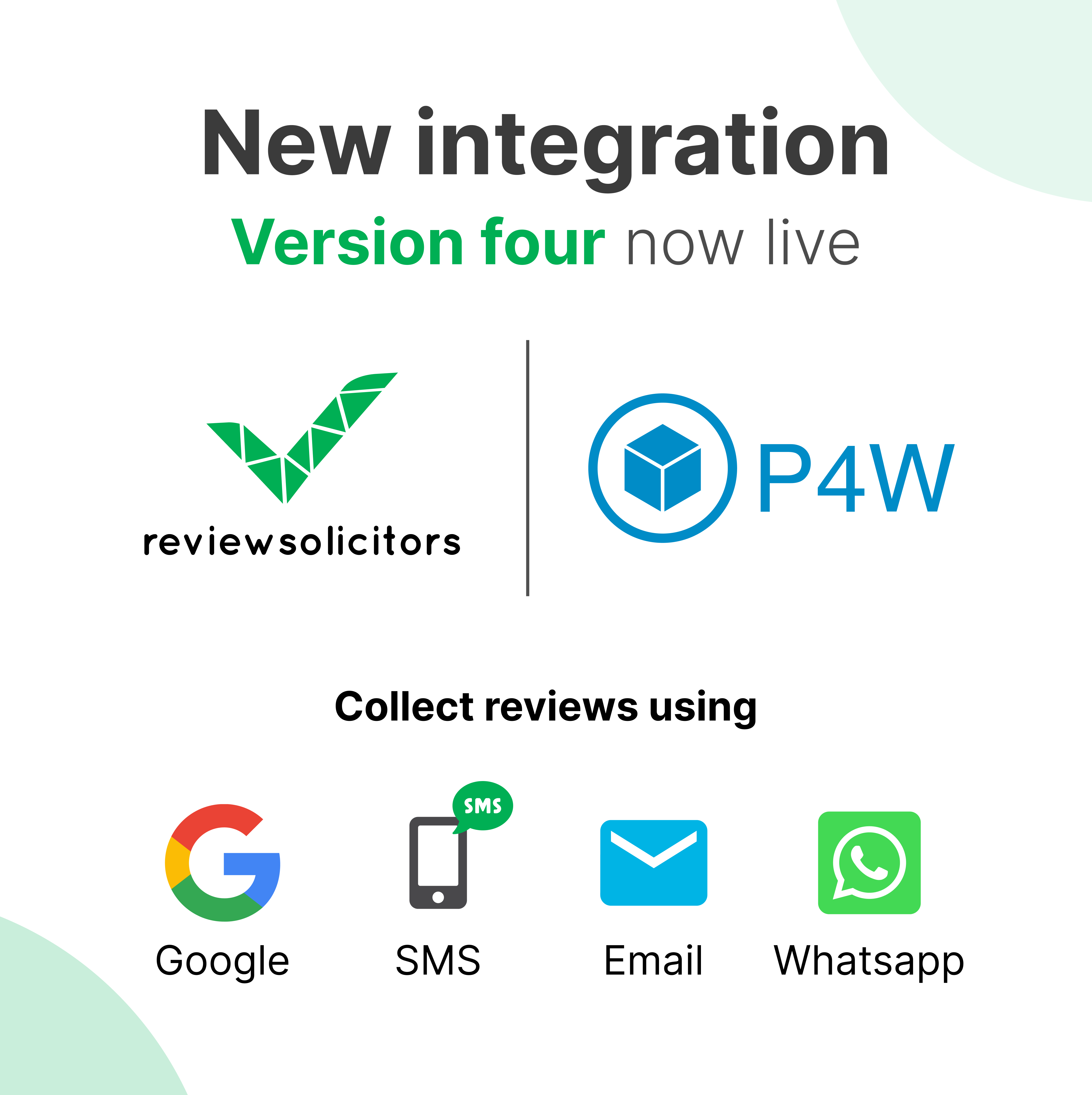 Law firms are always looking to improve their online review process. ReviewSolicitors is working with P4W to help law firms seeking feedback on their services with the collaboration of legal partner integrations. 
The new 'no click' process will allow P4W users to automate the collection of client feedback. Removing the manual process while still providing flexibility within the system. 
The setup takes less than 2 weeks, allowing your team to start collecting reviews straight out of P4W with minimal time or effort.
The current P4W integration with ReviewSolicitors allows for capturing reviews directly from the platform and achieving an average response rate of 30%. This NEW update will help to boost response rates by up to 40% if you include both SMS or WhatsApp collection methods. 
With machine learning and data science, the ReviewSolicitors platform will configure the best time to email and message clients to ask for their review of your services. In addition, the integration allows your clients to receive automated follow-ups over the following few days. 
5 key features within our P4W integration include: 
Not even a click - Review collection happens automatically—no relying on fee earners to remember to ask clients to leave a review.
Integrated Google reviews collection - collect Google reviews from your clients and feed them into your ReviewSolicitors profile.
Comply with multiple accreditations and audits such as Lexcel, CQS and Legal Aid
Fee earners are always in control - Not appropriate to send feedback to a client? Simply click a button to disable asking for a review.
Two-way integration. All reviews left by clients are delivered back into P4W, helping you to create a complete circle review culture when it comes to sharing client feedback internally.
With this integration, you can be assured that your client data is safe from prying eyes. Our high-level encryption keeps everything confidential. 
"The rekeying of data is painstaking and takes up a lot of our fee earners' time. With the 1-click integration, our clients receive an email at the end of each matter at the most optimal time. Now with the added WhatsApp and text message collection aspect, we can't wait to see how this further improves our brand and profile on ReviewSolicitors."
Ian Bury, Gloverpriest Solicitors - Sales and Marketing Manager
With more and more consumers turning to online reviews for information on legal services, it's essential to make sure that your law firm is collecting reviews. Thanks to this updated integration, it's easier than ever to do just that. 
Our team of experts are available to help you get started today. We would love to talk; simply give us a call at 0333 577 4417 or email service@reviewsolicitors.com
Collect reviews today
Complete the form to take control of your free profile on ReviewSolicitors.