Brace Yourself: Regulatory Shifts for Reviews Are Imminent
On Monday, January 9th 2023, our CEO participated in the SRA's roundtable discussion. The roundtable's purpose was to review the results of the SRA's pilot scheme for reviews and explore future plans with DCT (digital comparison tools) providers such as ReviewSolicitors.
The pilot scheme revealed some intriguing insights about how client attitudes and expectations have changed in recent years. The SRA has voiced that there is a need for law firms to provide 'Quality and service information' to clients in the early stages of the client's journey. 
Their results showed that there is a growing demand for review platforms in the legal services industry, both from firms and clients.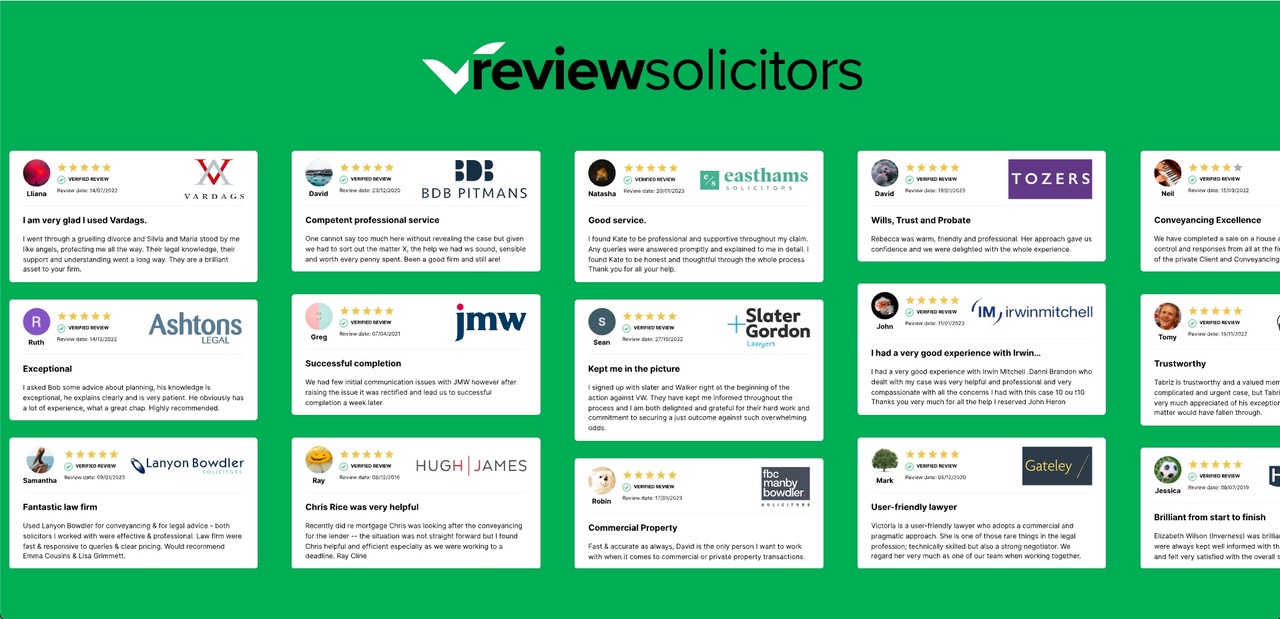 During the roundtable, the SRA shared other key findings from their pilot scheme, which included:
92% of clients stated that review platforms were helpful in finding legal services.
44% of law firms are already actively directing clients to their online reviews.
Out of all forms of data accessible to clients about a law firm, star ratings offered by review platforms, such as ReviewSolicitors, are considered the most influential factor for clients.
Law firms that already use review platforms reported various benefits, such as increased client engagement, internally identifying areas for improvement, and attracting new clients.
There has been a rise in engagement from law firms actively collecting client feedback and sharing it publicly on their website.
Some law firms still have reservations about engaging with reviews, primarily due to concerns over defamatory and non-client reviews, and the cost is also a concern for smaller firms.

The SRA's voluntary code of conduct, developed during the pilot scheme for DCT providers, was well-received across the industry. There is a strong desire for the SRA to create an accreditation scheme for DCT providers such as ReviewSolicitors. The SRA is currently considering the details of such a scheme.
During the pilot scheme, the SRA conducted a public engagement campaign to raise awareness about legal comparison sites. They found that the regulator-led incentive to inform clients about review platforms was successful, mainly through Google Ad campaigns. The SRA intends to continue this approach to educate the public about the availability of review and comparison websites for choosing a solicitor. This will be a welcomed stance by many law firms who are actively collecting client feedback:
Stefan Mitham from Ashtons Legal based across East Anglia, said:
"The involvement of the SRA in a public campaign to increase awareness of the legal options available for clients and to understand the reputation of a solicitor prior to instructing them is a step in the right direction for both consumers and law firms. Purchasing legal services is difficult as it is often done during a time of distress. This proactive effort by the regulator will give consumers a clearer picture of the options available to them, and enable law firms with positive reputations to showcase their strengths. Ultimately, this will lead to a more informed and transparent legal market for all parties involved."
SRA planning additional resources for law firms
In addition to public campaigns across Google, the SRA is exploring ways to better promote review websites and DCT providers on its own website to assist law firms in understanding and engaging with providers and to inform the public about the resources available to them. 
The SRA is in discussions with law firms to determine what resources they would benefit from on the SRA's website to help them engage with review sites. Topics discussed during the roundtable to help support firms included:
Techniques for obtaining reviews from a particular provider.
Available options for addressing reviews.
The review provider's process for dealing with defamatory reviews or reviews from non-clients.
Membership options for law firms, including associated costs.
The accreditation status of the review provider.
The review provider's compliance with the SRA's code of conduct for DCT's.
Grant Sanders from Stephen Rimmer Solicitors in Eastbourne said:
"The SRA's consideration of providing additional resources to law firms is a positive development. Many legal service providers are inexperienced with reviews, making the process of selecting a platform for gathering client feedback challenging. Having access to more information from the regulator, who is advocating for the collection of online client feedback, will be extremely valuable for Stephen Rimmer and I am sure for other legal service providers, in navigating this process."
The SRA acknowledged the need for change in the market, as outlined in the LSB's most recent report, to make it more transparent and competitive. They are now in the stage of considering formal changes to the regulations governing law firms. All decisions have yet to be formally agreed upon and published, but the SRA plans to share more information within the next two months.
Collecting Reviews with ReviewSolicitors
The forthcoming changes in the legal services market regarding reviews, as indicated by the SRA and LSB, highlight the importance of proactive review collection for law firms. Don't wait to begin your journey of collecting client reviews.
ReviewSolicitors, the largest UK-based legal review platform, offers free review collection for law firms. To learn more and take control of your firm's online presence, visit our website and information page and complete the form on the right-hand side.
Collect reviews today
Complete the form to take control of your free profile on ReviewSolicitors.